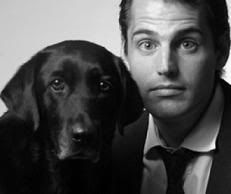 Noted author talks about his new mystery novel
Albuquerque, NM — February 3, 2008 — Noted author, J. F. Englert will appear on the BlogTalk Radio show "The Dog View" (http://www.TheDogView.com) with hosts, Jan Cooper, and veterinary naturopaths, Dr. Kim Bloomer & Dr. Jeannie Thomason on Thursday, February, 2008, at 1:30 p.m. Eastern. The exclusive interview will focus on Englert's new mystery novel written in first dog, A Dog About Town.
Callers are welcome to join the conversation during the show by calling (646) 595-4893 when the hosts open the lines for callers. The live, Internet talk-radio show will stream from the host page at http://blogtalkradio.com/thedogview.
"Actually J.F's dog, Randolph contacted me to alert me to his new mystery novel, A Dog About Town", comments show host Dr. Kim Bloomer. "You can imagine my delight and surprise at having a dog contact me to let me know about HIS new mystery novel. He says he made up his human, J. F. just so that he could have him speak for him in public settings. I have to say this is one of the freshest, most innovative novels I've had the pleasure to read in some time…and it's written by a dog!"
An archive will be available at the same link immediately following the show or listeners can subscribe to the archives via the RSS feed located on the host page. Read more about the hosts at their main site at www.AnimalTalkNaturally.com
Or you can listen to this show here if you missed the live version:

About "The Dog View"
"The Dog View" is an interactive, live Internet talk-radio show Three women, one podcast talking all about DOGS of course! Jan Cooper loves Rottweilers, agility trials and fighting BSL. Jeannie Thomason naturally rears Boston Terriers and is a veterinary naturopath. Kim Bloomer loves BIG dogs – the bigger the better she always says and is also a veterinary naturopath. The three share their views on all things canine! The stream and archives are available at http://www.blogtalkradio.com/thedogview. This show is a special needs show so it airs when there are special situations – check the site for the schedule. The show is hosted on BlogTalkRadio.
About BlogTalkRadio
BlogTalkRadio is a free, web-based platform which allows any user with a phone and a computer to host a live, interactive Internet broadcast. Hosts call into the service by phone, managing callers on the web-based host dashboard. Shows stream live directly from the host's BlogTalkRadio web page with archives available for all past shows. BlogTalkRadio's social radio network can be found at http://www.blogtalkradio.com.
###